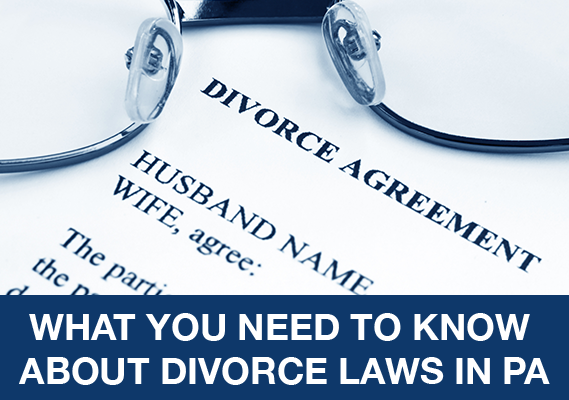 A divorce is one of the most difficult times you and your family can face. The future can seem uncertain, and it is difficult knowing where to seek help. As you work through the legal processes and emotionally pick up the pieces, you shouldn't settle for anything less than a professional and empathetic attorney. At the Miller Law Group, we focus on providing comprehensive services that satisfy your legal and emotional needs.
Furthermore, divorce proceedings can be complicated. If you and your spouse are filing for divorce in PA, you need to ensure that you've met all the requirements and filled out the proper documents. Read on to find out everything you need to know about divorce laws in PA, including the primary documents for filing for divorce, any alternatives to divorce proceedings and more.
Divorce Filing Requirements in PA
In order to file for divorce in Pennsylvania, at least one of the parties to the divorce must have been a PA resident for six months prior to the filing. The divorce proceedings may be brought in the county where the defendant lives. If the defendant is no longer living in Pennsylvania, the proceedings may be brought in the county where the plaintiff — the person filing the divorce action — lives. If the plaintiff continues to reside in the county where they lived while married to the defendant, the proceedings may be brought in that county.
Prior to six months after the final separation, proceedings may be brought in the county where the plaintiff resides if the defendant agrees. If neither plaintiff nor defendant lives in the county where they resided at the time of the marriage, the proceedings may be brought in the county where either of them now lives. Six months after the final separation, proceedings may be brought where either plaintiff or defendant lives.
Grounds for Filing for Divorce in PA
Divorce laws in PA allow for a no-fault divorce 90 days after filing if both parties have filed affidavits stating they agree to the divorce. This is called mutual consent, where both plaintiff and defendant consent that the marriage is irretrievably broken.
Without the defendant's mutual consent that the marriage is irretrievably broken, the court may determine that the marriage is irretrievably broken as long as plaintiff and defendant have not lived together for two years.
No-fault divorce filings are much more common than fault filings. In order for a plaintiff to prevail in a fault divorce, the plaintiff must prove in court that the defendant's behavior led to the divorce. Grounds for a fault divorce include adultery, abandonment for at least a year without cause, bigamy and domestic violence.
Divorce Counseling Requirements in PA
Under PA divorce laws, the court will order up to three counseling sessions if a plaintiff has filed a fault divorce action where the life of the injured spouse is intolerable. The court will also order up to three counseling sessions under the no-fault divorce within 90 days of the filing. The court will order counseling sessions in each of these circumstances whether or not either party requests them.
In the instance where the court determines that a marriage has been irretrievably broken and the parties have lived apart for at least two years, the court will require counseling sessions if either party requests them or may require the counseling sessions if they have a child who is younger than 16.
In all of the situations outlined above, the court will provide plaintiff and defendant a list of qualified counselors, but the plaintiff or defendant are not required to pick a counselor from that list. They may pick a counselor of their choice.
The Friendly and Reliable Service You Deserve
Personalized attention and professional legal service are what set our firm apart from the rest. It's what we expect from our team and what you deserve as our client. The divorce lawyers at the Miller Law Group can assist you with the following issues:
Child visitation
Child support
Modifications
Above are just a few of the responsibilities that come with a divorce. Contact Miller Law Group today for more information.
Finding Support with a Divorce Attorney in Berks or Reading Regions
A divorce can affect every area of your life. It can mean your home is sold and cause financial and emotional upset as well. If children are involved, a divorce can be especially hard on them. However, many couples find they can navigate the process effectively and with minimal pain by working with the right divorce attorney in Reading or their community.
An experienced marriage dissolution attorney in Reading, PA, or your city can discuss divorce law with you and help you understand what to expect. If it's an uncontested divorce, he or she can suggest mediation or another method for dissolving the marriage in an amicable way.
In a contested divorce, a marriage dissolution attorney in Berks County or your area can represent your interests and work out issues such as custody, alimony, distribution of property and other issues. He or she can negotiate with your partner's attorney to eliminate some of the pressure on you and keep things as civil as possible.
Issues in a Divorce
One reason a marriage dissolution attorney is so important in Reading or your area is because of the challenges that can arise with a divorce:
If you have a prenuptial or postnuptial agreement, it can be challenged in divorce proceedings.
If you don't have this type of agreement and one partner makes more money than the other, there may be a fight in court over division of property or child support.
In the case of infidelity, there may be animosity leading to accusations and demands for additional support. In these and other situations, a divorce attorney in Reading, PA works to protect you and your family and works to end your marriage on the friendliest or most civil terms possible. When children are involved, an attorney can work to ensure children are protected legally and financially after the end of a marriage.
If your relationship is coming to a close and you'd like to speak with a divorce attorney, contact Miller Law Group for a consultation. Our attorneys are proud to serve clients in Pennsylvania, and our family law attorneys would be pleased to address your concerns in a caring and honest manner.
---
Is it possible to have an amicable divorce?
An amicable resolution is not a myth as long as you view divorce as a process toward a resolution, rather than an argument to be won. The harsher you are, the more resistance you'll encounter when trying to reach an agreement.
As difficult as it sounds, you must acknowledge your pain and accept that the divorce is actually happening. Only then can you begin to let go and look forward, avoiding denial. You may have to deal with your ex-spouse in areas such as parenting and property division after the legal matters are handled. Think about whether you may be forcing your ex-spouse to fight against you by being unreceptive to cooperate.
What is the difference between "fault divorce" and "no-fault divorce"?
In essence, the difference is marital misconduct versus irreconcilable differences. No-fault divorce laws can differ from state to state.
Do I need to hire a divorce attorney?
Hiring a divorce attorney is optional. If you choose to represent yourself, then you place yourself at a disadvantage. Divorce, most times, is complex and you will want an experienced attorney who knows the Pennsylvania state laws.
What can I do to prepare?
Before seeking an attorney, make a list of your questions or concerns regarding the following:
Home. Keep or sell? Where will you live?
Insurance. Life insurance, medical, and other for spouse or children.
Taxes. Current or past tax returns, future exemptions.
Support payments. Spousal and child support, how much for how long.
Children. Living arrangements, decisions about education and healthcare.
Primary Documents for Filing a Divorce in PA
A divorce in PA can't be obtained unless the plaintiff files the appropriate documents. The plaintiff needs to file the complaint along with the Notice to Defend and Claim Rights and Verification forms, which are attached to the complaint. These documents must be filed at the courthouse in the county where the plaintiff is filing for divorce.
The defendant must be served with the filing documents within 30 days following the date after the documents are filed at the courthouse. The time for service is extended to 90 days if the defendant does not live in Pennsylvania.
Divorce and Property Distribution in PA
The distribution of property after a divorce action is filed can be a very tricky and complex issue if there is much property involved. Separate property such as something acquired prior to marriage or something subject to a prenuptial agreement will not be included as an asset subject to equitable distribution.
And one of the little-known divorce facts is that even if an asset is titled in one spouse's name, it can still be considered a marital asset if it was purchased during the time of the marriage. Another divorce fact surrounds the equitable distribution of debt. Even if a credit card is only in one spouse's name, it can be considered a marital debt if the owner of the card ran up the credit card debt during the course of the marriage.

Because Pennsylvania is an equitable distribution state rather than a community property state, the assets are divided according to what a judge deems as equitable or fair. It is a myth that marital assets are divided 50/50. Factors a court will consider in equitable distribution include the length of the marriage, ages of the spouses, tax consequences of a significant award, whether there are any separate assets and whether or not one of the spouses will have custody of a minor child.
Decisions regarding alimony, child support, child custody and the equitable division of marital assets are written in a marriage settlement agreement. This contract between the spouses will be part of the court's divorce judgment when the final decree is issued.
Understanding Spousal Support/Alimony in PA
There are three types of support, which a court can order in divorce proceedings.
Spousal support is paid after the married parties are separated and may be paid before the divorce petition is filed.
Alimony pendente lite is ordered by the court pending the final divorce decree. There is a formula used in Pennsylvania to calculate spousal support and alimony pendente lite. The formula is in the PA Code at Rule 1910.16-4.
Alimony is the support order made after the divorce decree is finalized. The formula used in Pennsylvania to calculate spousal support and alimony pendente lite is not used to calculate alimony.
Factors for determining the amount of alimony are similar to those used when dividing assets under the principle of equitable distribution. Those factors include ages of the spouses, earning potential, duration of the marriage, support of one spouse for the other to gain training to increase earning power during the marriage, standard of living, assets and liabilities of each spouse, marital misconduct and level of education of each spouse to consider how long it would take each to find suitable employment.
Alimony will end automatically upon the death of either spouse, remarriage of the spouse receiving the alimony or if the spouse receiving the alimony is living with a non-family member of the opposite sex.
If the spouse paying the alimony or spousal support has a drastic change in circumstances such as experiencing a decrease in income or becoming disabled, they can petition the court to modify the order to change alimony or spousal support.
Child Support and Paternity Rules in PA
While Rule 1910.16-4. of the PA Code is the formula used to establish spousal support and alimony pendente lite, it is also the formula used to establish child support. The formula is designed to determine how much each spouse would contribute towards the child support based upon their individual earnings and the number of children they have.
The formula also allows for an adjustment if the child or children spend over 40% of their time with the custodial parent.
Rule 1910.16-3.1 of the PA Code is used to calculate support in higher income cases, where the combined net income is greater than $30,000 per month. However, according to Rule 1910.16-5, various factors may be considered to determine if an adjustment needs to be made to support at any income level. Those factors include the ages of the children, the standard of living, other available household income and any unusual expenses.
The obligation to provide support terminates when the child turns eighteen or graduates from high school — whichever occurs last.
If the mother of a child born when she wasn't married is seeking to establish paternity in order to obtain child support from the child's father, this is most easily accomplished if both parties voluntarily complete the Acknowledgement of Paternity form and send the completed form to the Pennsylvania Department of Human Services. Once this form has been processed, the mother can apply for a birth certificate for the child from the Pennsylvania Department of Vital Records, and the accurate birth certificate will now list the names of both biological parents. The Acknowledgement of Paternity form may be found at county domestic relations offices and at hospitals.
If the father disputes that he fathered the child, the mother must file with family court a petition to determine paternity. At that time, she can also file a complaint for child support. The court may then order DNA testing of the father and the child. If the father is actually the biological father, the court will then have him added to the child's birth certificate.
Alternatives to Divorce Proceedings
There are several alternatives for divorce proceedings with the intention of avoiding costly litigation and debilitating emotional stress. One of the newest alternatives is collaborative law. In collaborative law, each party to the divorce retains an attorney who works with them as they sign a participation agreement. Through this agreement, each party attests that they will abide by the terms of the agreement that is reached out of court.
There are multiple meetings with the parties, their attorneys and any other professionals that may assist them in coming to a resolution. Accountants, appraisers and child specialists may be present at the meetings as well, and the primary consideration is the well-being of the children. These face-to-face meetings occur out of court until parties are able to settle upon a resolution that meets all of their needs.
Mediation is also an alternative to divorce litigation. Parties to a divorce must agree to meet with a trained mediator who will work with them out of court to address each of their needs to arrive at a mutually amicable agreement. This process works best with parties that are not greatly disputing assets and do not anticipate a contentious divorce.
If mediation does not work for the parties to a divorce, they can try arbitration. Typically, the arbitrator is an attorney who has been trained in the skills of arbitration. The parties can stipulate prior to beginning the arbitration that it is either binding or non-binding. They will each be represented by an attorney who will guide them through the process as they meet with the arbitrator, who is bound by certain rules of the Uniform Arbitration Act.
The arbitrator will hear testimony from witnesses, conduct discovery, hold conferences and even subpoena witnesses. Once the arbitrator makes their final decision, the decision will be presented to the parties. The attorneys will then file a summary action, and the arbitration will be as enforceable as if it were a decision handed down by the court. It is important to note that like the other alternatives to litigation, arbitration does require a certain amount of cooperation by the parties subject to the arbitration.
With all of the factors involved in a divorce proceeding, it is important to note that there are numerous variables that determine how complex the settlement will be and whether there is a great likelihood for potential litigation. The overall costs of the divorce will likely be less if there are few marital assets and if there are no children from the marriage.
Divorce Law at Miller Law Group, PLLC
The information provided above is intended to answer the most basic questions about divorce facts in PA. While there are many do-it-yourself divorce kits on the market, legal experts will tell you that while this may work if both parties are in agreement, there are often things that are overlooked in the name of saving money. For example, did you thoroughly research your state's laws, and did you consider the tax consequences? Is that internet-based divorce kit you're looking at truly legitimate, or is it a scam? Because even the most seemingly simple of divorces might become costly, it is vital that you consult the expertise of an attorney who specializes in family law.

In 2012, the estimated cost of a divorce in Pennsylvania was between $30,000 and $50,000. This estimate includes an initial consultation, which could costs between $200 and $300, a retainer fee between $3,500 and $5,000, billable hours between $275 and $375 per hour, custody evaluations and trial between $10,000 and $20,000 and discovery proceedings up to $4,000.
In order to ensure that your legal rights are being protected and that you have the best and most experienced representation possible, you will want to use a law firm that is highly experienced in divorce law and is familiar with the court system in the area where they practice. In addition, you want a firm that is more interested in helping you achieve your legal goals than seeing you as another billable hour. Miller Law Group, PLLC has over 40 years of experience, and our attorneys pride themselves on treating their clients' problems with as much concern as they would treat their own problems. Contact us today and find out why Miller Law Group is a different kind of law firm.
These general questions can help guide you, but for more specific answers, contact us today.
Sources:
1. http://www.legis.state.pa.us
2. http://www.divorcesource.com
3. http://lindakernslaw.blogspot.com
4. http://www.divorcenet.com
5. http://www.pacourts.us
6. http://www.divorcenet.com
7. http://www.mainlinedivorcemediator.com
8. http://www.foxrothschild.com
9. http://www.divorcenet.com
10. http://www.divorcenet.com
11. http://www.collaborativelawpa.com
12. http://www.goldmanlawoffices.com
13. http://www.capehart.com